Six MBU Alumni Honored During Homecoming Week Awards Ceremony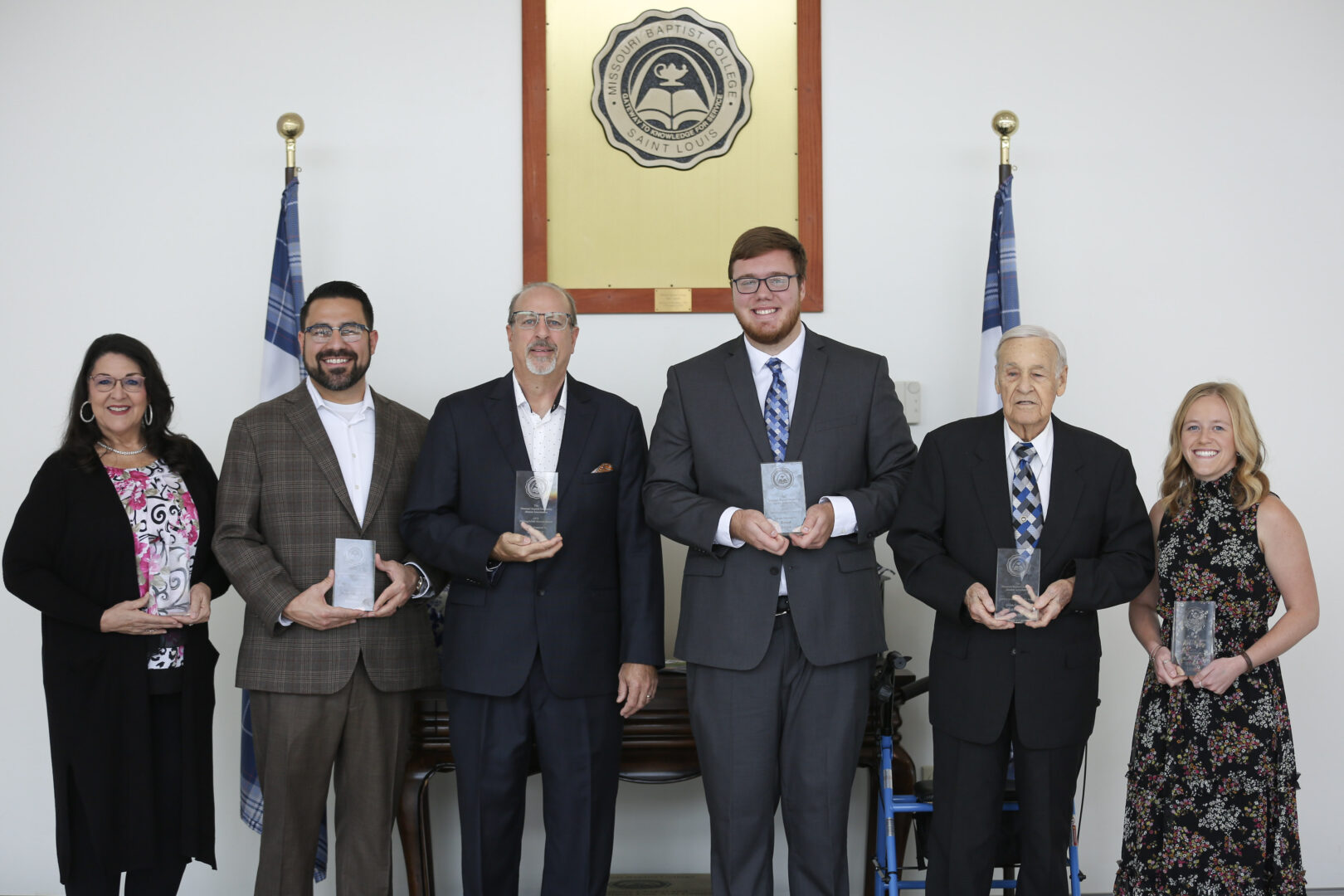 ST. LOUIS—Missouri Baptist University presented prestigious alumni awards to six alumni and one student during a ceremony held as part of the University's Homecoming Week festivities on Thursday, September 21, 2023. The University selected these individuals out of more than 15,000 alumni, recognizing their excellence in vocation and service.
Dr. Nika Furey ('16) and Ansley Little ('20, '23) both received the Outstanding Young Alumnus Award for their qualities of leadership and service, showing promise for further distinction. Dr. Furey is a medical science liaison for a pharmaceutical company, where she works on clinical trials and medical education for patients with chronic autoimmune diseases. Little works as a nurse at Mercy Hospital in St. Louis, developing quality improvement projects for both the oncology unit and the medical surgical service line.
Tamra Barbosa ('98) and her son, Chez Barbosa ('07), both received this year's Vocational Excellence Award for outstanding achievements in the counseling field. Both licensed professional counselors, the duo co-founded True Vine Christian Services, which provides counseling services based on biblical values.
The Service to the University Award honored Robert "Bud" Waite ('98) for his work furthering the mission of the University. When his daughter, Kim, suddenly passed away in 2019, Waite established an endowed scholarship for MBU students majoring in the University's special education program. These scholarships have supported several students achieve their educational goals. Both Waite and his wife have also given generously to MBU, faithfully attended events, and served as trustees.
Dr. Gregory Buschman ('92) received the Distinguished Alumnus Award for his outstanding professional achievement, community service and personal excellence. Dr. Buschman spent 35 years as an entrepreneur and corporate leader, and his book, "I Think, You Think, We All Think Differently: Leadership Skills for Millennials and Gen Z," is an Amazon number one new release in the business management category. Dr. Buschman and his wife, Debbie, also serve as missionaries to the Dominican Republic.
Finally, current MBU senior Brent Seyer received the Mission in Action Award for reflecting the mission and core values of the University. Seyer is pursuing a Bachelor of Science in middle school education with an emphasis in science. While at MBU, Seyer has worked in the Admissions Office and with Residence Life, demonstrating a passion for welcoming guests and students on MBU's campus. Seyer recently began teaching full-time at Francis Howell Middle School.
Missouri Baptist University recognizes the achievements of its graduates each year during the Alumni Awards ceremony. Nominations for award recipients come from the ever-growing pool of MBU alumni. The ceremony is held in the iconic Pillsbury Chapel and Dale Williams Fine Arts Center, located on the University's main West St. Louis County campus.
Missouri Baptist University is a Christ-centered university located in St. Louis. MBU offers more than 40 undergraduate degrees, graduate degrees in education, business and religion and the Doctor of Education. MBU offers degree programs at regional learning centers throughout the St. Louis metro area and online. For more information, visit www.mobap.edu or call 1-877-434-1115.
PHOTO: From left, Tamra Barbosa, Chez Barbosa, Dr. Gregory Buschman, Brent Seyer, Robert "Bud" Waite, and Ansley Little. Not pictured: Dr. Nika Furey.