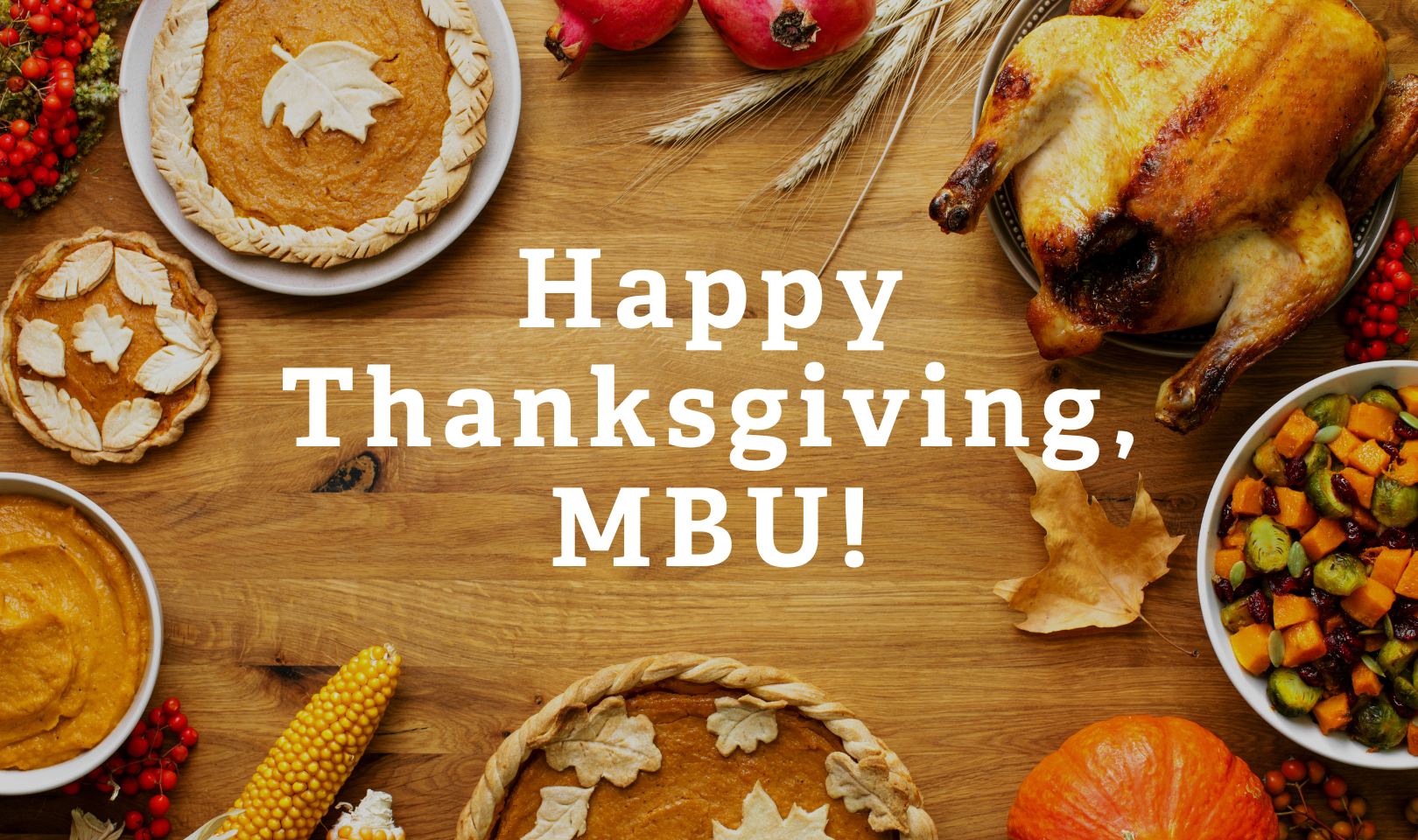 Looking for a recipe to share with your loved ones this holiday season? Look no further — our MBU community has you covered! Check out some of our faculty and staff's favorite recipes below.
Grandma Christine's Mashed Potatoes
recipe by: Bryce Chapman, Sr. Vice President for Enrollment, Marketing & University Communications
Ingredients:
9 potatoes
6 ounces cream cheese
8 ounces sour cream
2 teaspoons onion salt
1 teaspoon salt
1/4 teaspoon pepper
3 tablespoons butter
Directions:
1. Boil potatoes
2. Drain and mash potatoes
3. Add butter and remaining ingredients
4. Put in casserole dish and slice butter pieces on top
5. Place in oven of 350 degrees for 30 minutes
6. Enjoy – Serves 12 easy
Mom's Apple Sausage and Cranberry Stuffing
recipe by: Katie Russell, Assistant Director of Student Success
Ingredients:
5.5 cups cubed white sourdough bread
2.5 cups cubed whole grain wheat bread
1.5 pounds ground pork sausage
1.5 cups chopped yellow onion
1.5 cups grated carrot
1.25 cups chopped celery
3 tablespoons chopped fresh sage leaves
2 tablespoons chopped fresh rosemary leaves
2.5 teaspoons fresh thyme leaves
1 large Golden Delicious apple, cored & coarsely chopped
1 large Granny Smith apple, cored & coarsely chopped
1¼ cups dried cranberries
½ cup minced fresh parsley
¾ cup Golden Tangerine Turkey Giblet Stock
¾ cup fine-quality Chardonnay or dry white wine
6 tablespoons unsalted butter, melted
Directions:
1. Preheat oven to 350º F.
2. Line two baking sheets with parchment paper
3. Bake the white or sourdough and whole wheat bread cubes in one layer on prepared baking sheets until golden brown, about 10 to 15 minutes, stirring halfway through baking time.
4. Transfer toasted bread cubes to a bowl and let them cool.
5. Cook the sausage and onions over medium-high heat
6. Add the carrots, celery and herbs
7. Cook for 2 minutes while stirring to blend flavors
8. Pour sausage mixture over bread in bowl
9. Stir in chopped apples cranberries and parsley
10. Drizzle the stock, wine and melted butter over stuffing mixture
11. Bake in a generously buttered casserole dish in a preheated 350ºF oven for 30 to 40 minutes, covered
12. Drizzle desired amount of butter over the top
13. Return to oven and bake an additional 10 to 15 minutes for a crisp, golden brown top
Kasey's Corn Casserole
recipe by: Kasey Cox, Director of Theatre
Ingredients:
1 can of sweet corn
1 can of creamed corn
1 stick of melted butter
3/4 cup of heavy whipping cream
1 box of corn muffin mix
Directions:
1. Preheat the oven to 350 degrees.
2. Mix all ingredients together in a bowl
3. Spread out the ingredients evenly in a 9×13 baking dish
4. Bake for 40 minutes (or until golden brown)
Taira's Biscuits
recipe by: Taira Schertz, Director of Student Life
Ingredients:
3 cups of all-purpose flour
3 tbsp sugar
1/2 tsp salt
4 tsp baking powder
1/2 tsp cream of tartar
3/4 cup cold butter
1 egg
1 cup of whole milk
Directions:
1. Preheat oven to 450 degrees.
2. The secret to excellent biscuits is COLD BUTTER. Really cold. Many times the biscuit dough gets worked so much that the butter softens before the biscuits even go in the oven. Try cutting the butter into small pieces and stick back in the fridge pulling out only when ready to incorporate into the dough.
3. Combine the dry ingredients in a large bowl.
4. Use a pastry cutter to cut cold butter into flour mixture. Don't go too crazy here — you want to see small, pea-sized pieces of butter throughout the dough.
5. Add in the milk and egg and mix just until the ingredients are combined. The dough will be sticky but don't keep working it. You should be able to see the butter pieces in the dough.
6. Turn the dough out onto a generously floured surface. Sprinkle some flour on to the top of dough so it won't stick to your fingers and knead 10–15 times. If the dough is super sticky just sprinkle on some additional flour.
7. Pat the dough out to 3/4–1 inch thickness and cut with a biscuit cutter or glass. I ended up with nine this time but depending on who is snacking on biscuit dough, I can get up to 12 biscuits.
8. Place the biscuits on a lightly greased baking sheet or parchment lined baking sheet and bake for 10 to 15 minutes or until golden brown on top.
9. Brush the tops of the biscuits with melted butter
Kim's Ravishing Rice
recipe by: Kim Cochran, Director of Early College Partnerships
Ingredients:
1 large onion (chopped)
1 bell pepper (chopped)
1 cup celery (chopped)
1.5 tsp butter
1 lb spicy pork sausage
4.5 cup water
1 box (2 pkgs) instant chicken noodle soup
½ cup white rice
½ cup slivered almonds
dash of paprika
Directions:
1. Sauté onion, bell pepper, and celery in butter. Set aside
2. Brown and drain sausage. Set aside.
3. Boil water and add soup mix and rice. Cook for 8 minutes or until water is mostly absorbed. Do Not drain.
4. Mix all ingredients (except almonds) in a 2.4 quart baking dish.
5. Top with slivered almonds, top with paprika (enough to add color)
6. Bake uncovered for 30–35 minutes in 350 degrees.
Abby's Rice Bake
recipe by: Abby Kassebaum, Director of Alumni Engagement
Ingredients:
1 box of long grain rice
1 can of diced water chestnuts
1 cup of pecans
1 lbs of cooked sage sausage
Directions:
1. Preheat oven to 350 degrees
2. Combine all ingredients and place in a 9×13 pan
3. Cook for 30 minutes
Janet's Cosmopolitan Cranberry Sauce
recipe by: Janet Mayfield, Secretary of the President
Ingredients:
2 small lemons
1 orange
1 (12 oz) bag of fresh cranberries
1 cup of sugar
2/3 cup of water
1/2 cup golden raisins
2 tablespoons of orange juice
Directions:
1. Grate 2 teaspoons of lemon zest and squeeze 2 1/2 table spoons of lemon juice. Grate 1/2 teaspoon of orange peel.
2. In a 2 quart saucepan, combine cranberries, sugar, water, raisins, lemon peel, lemon juice and orange peel.
3. Heat to a rolling boil over medium-high heat.
4. Reduce heat to a medium-low and cook uncovered, stirring occasionally.
5. Cook for 5 minutes or until most cranberries pop then remove saucepan from heat
6. Stir in orange juice.
7. Allow cranberry sauce to cool slightly before transferring into a serving bowl.
8. Cover and chill for 3 hours (leave up to 4 days)